Learn. Serve. Lead.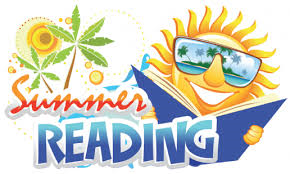 SUMMER READING....
Summer vacation is almost here! We hope that you make it a time to REST, RELAX, READ, but above all ENJOY!
Reading, like a sport, involves practice and skill. Real skill building occurs when children read for pleasure, when children read "just right" books, that is, books that are not too hard and not too easy, and when children can explore books about those topics that interest them. The more they practice, with someone's encouragement, suggestions and praise (just like in a sport), the better and more confident readers they will become.
Here are some tips to encourage reading:
Set aside a regular family reading and/or read aloud time.

Read to your children, even the older ones.

Recognize that your child's own choice and interests are important ingredients toward reading enjoyment.

Let your child see you reading for pleasure.

Don't forget to pack a book wherever you go this summer.

Encourage and help your child succeed with reading but do not push or expect too much too soon.

Participate in activities at the local library.
Happy Reading!!!!
http://www.ala.org/alsc/sites/ala.org.alsc/files/content/compubs/booklists/summer/170426_ALSC_SummerReading17_3-5.pdf